It's Friday, woohoo! I am so ready for this weekend to be here!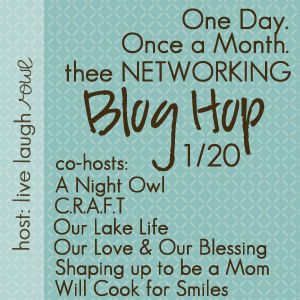 This weekend I am so excited to be co-hosting January's Blog Hop @ LiveLaughRowe.
If you haven't heard about it, it's an awesome way gain new readers and give
your blog access to some great people looking to make friends! Hundreds of bloggers maglie calcio poco prezzo link up to meet new bloggers and grow their blogs every month. Last month 280 people joined the hop!
So mark your calendars for Sunday January 20th and come party with us!
Kelly @ Live Laugh Rowe
Kimberly @ A Night Owl Blog
Jaime @ C.R.A.F.T
Jen @ Our Love & Our Blessing
Megan @ Shaping up to be a Mom
Lyuba @ Will Cook for Smiles
Oh, feel free to Pin, Facebook Tweet, Google + or Stumble too. See you Sunday!