Well, we don't have a color choices for the Living Rooms walls yet but we do have paint swatches! Where are those HGTV helper bees fixing things up in the background when you need them?
After our conversation yesterday about white paint Bryan and I ran out to the paint store to get a few samples. While we were there our conversation went something like this:
Me "Hun, which paint chip do you like?"

Bryan "They're both white"

Me "Yes I know they're both white but some are warmer and some are cooler"

Bryan "I'm not totally convinced there's a big difference"
That conversation basically gave me all the go-ahead I needed to pick out 4 whites without much more input and bring them home so I could test them out in the ray ban baratas space. Sometimes you just need to bring them home to really see how they'll work.
For those of you would like a refresher here's a recent wide angle view of how the Living Room looks now after completing our first project of the new year when we rearranged the furniture
Some of the whites are warmer and others are on the cooler side. They are all by Benjamin Moore. Painted in order from top to bottom they're Frostine, Vapor, Decorators White, and Paper White. So far I think our room may be able to handle a cooler shade since it's a Southwest facing room which tends to get a ton of sun during the day.
When we got home I painted the white samples on the wall along with 4 other samples of grays that my sister had brought over for me a while back. Thos samples are also by Benjamin Moore so I could see the difference and help with the decision making process.
It's a little hard to photograph the difference in the whites since it's a subtle but noticeable in color change in person. I tried to get it in the truest light which meant leaving the shades mostly closed causing a slightly blurry picture.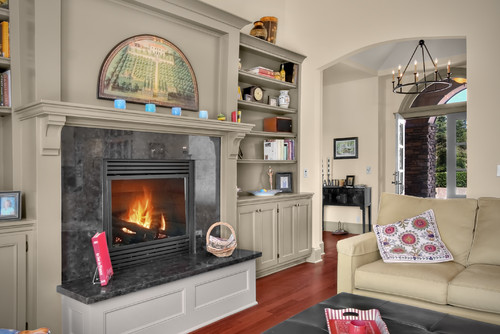 So far Bryan likes the grays which I'm ok with but something keeps drawing me to white walls. He's worried that the trim will disappear if it's white walls and white trim, something I'd be willing to fix with painted gray trim.
I could even be persuaded to paint the doors black to give it a little drama and contrast. I have a feeling these paint swatches could be up for a while before I make a decision.
Can you tell what my favorites are? Anybody else have paint swatches on their walls for ages?
Please tell me I'm not the only one!