This week's one room challenge has been more about sourcing the perfect coffee table to replace our too long one we currently have. Well let me skip to the punch line. It doesn't exist, or at least I haven't found it yet. Don't misunderstand me, there are plenty of beautiful options ut usually it's a matter of being too long, too wide, too low, too expensive and many other adjectives you can precede with too to describe the predicament.
We had a new and exciting project pop up for the Ray Ban outlet house that has us diverting most of our project money o those areas so needless to say the budget for the coffee table just went out the window.  But, I have a plan. Can you guess what it is?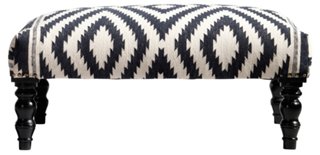 Yup, I'm going to build an ottoman. I think it'll be a good interim solution and if I use some of my fabric hoarding stash I could probably complete it for very little money out of pocket. Isn't that black and white above from One Kings Lane and the white tufted one below gorgeous?
source unknown